Sept, 21/22 – Sa/So – 14-21h
Finca de Barrio Alberca Blanca, 29738 Rincón de la Victoria
4 min from A7 exit 258 Chilches > Calle Universo, ca. Restaurante Salvori
> signposted to the events
benefit event – recommended donations: seminar 108 € or 1 day 60 €
reservation 686.093766 & 0049.151.54187031 (telegram · signal · whatsapp · fon)
Sat, Sept 21st
Tibetan Mantra Healing
Preliminary level (about 15- 25 mantras)


Tibetan Mantra Healing (TMH) is a powerful form of healing which utilizes the energy of pure vibration – Sound – to heal subtle energetic disturbance. In this way, we can treat the root cause of disorders and diseases, instead of simply treating the symptoms.
The mantras described here arise out of the ancient Tibetan medical and spiritual traditions. It is based upon the philosophy of Interdependent Origination of all Phenomena.
They are simple to use, profoundly effective, and are immediately accessible to everybody – regardless of age, gender, ethnic or spiritual background.
TMH can be used as a treatment on its own, or in conjunction with other treatment modalities. It is reputed to have profound effects in the treatment of chronic disease.
There are literally hundreds of different Mantras for Healing.
There are also Mantras to cover more generalised conditions, for example:
• Disorders of the Solid Organs such as the Heart, Lungs, Liver, Spleen, Kidneys;
• Disorders of the Hollow Organs such as the Gall Bladder, Stomach or Colon;
• Disorders of the Senses such as Sight, Hearing;
• or to alleviate Pain.
There are Mantras to re-balance the 3 Humours (Wind, Bile and Phlegm). In Tibetan Medicine, the 3 Humours are considered to be the 3 vital energies in the body; disease manifests when the 3 Humours become imbalanced.
There are also Mantras for "One Hundred Diseases". Tibetan Medicine speaks of all diseases as being variations of different basic energy disturbances. These Mantras have the ability to heal any sort of problem; they are very effective for illnesses which are complex, or where the cause of the illness may be unknown
Tibetan Mantra Healing Preliminary level program contains:
– Origins of TMH, the function of Mantras
– use of Mantras to cure specific disorders
–  instructions on how to use a mala
– transmission of over 25 important healing mantras.
Students will need to bring their own mala (prayer beads).
___________
So, Sept 22nd 
La Massage
༼བླ༽ La means supreme in Tibetan Language, it refers to the pure lunar energy in our body, it moves through our whole body in a monthly, weekly and daily cycle, but to introduce LA energy as a treatment, we will go with the monthly cycle which has 30 points with corresponding syllables, LA massage requires therapist to involve mind, speech and body when treat a patient who suffers from insomnia, lack of concentration, constant fear, trauma of different kinds, fatigue, lack of memory, mental confusion, sadness for no reason….
____________
Donation recommended: 108 €, only 1 day: 60€
____________
Drukmo Gyal Dakini,
Sorig Khang International Teacher, Tibetan Mantra Singer, Tibetan Medical Translator.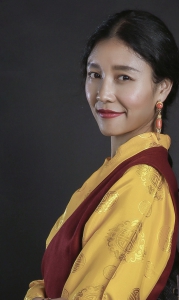 Drukmo Gyal Dakini (འབྲུག་མོ་རྒྱལ ) was born in the Northeastern part of Tibet into a Tibetan yogi (Tib.  སྔགས་པ Ngakpa) family where mantra and meditation were introduced at a young age. With support from the local Tibetan yogic community and family, she practiced mantras with traditional old melodies and sang publicly from 2008. She moved to Europe in early 2014 in order to work with Sorig Khang International – one of the biggest organization and academy of Traditional Tibetan Medicine in the west, which was found by Dr.Nida Chenagtsang, during her stay in the west, she produced 5 albums of Tibetan Healing mantras and chants with musicians from all over the world, she travelled to more than 20 countries to share concerts, public talks, workshops and courses on Healing mantras, yoga, meditation as well as External Therapies according to Traditional Tibetan Medicine. one of the focuses of all her activities is helping females to find equality, helping mothers&children to view each other with divinity and compassion through Tibetan Spiritual healing and Buddhist practices.