SOUNDS FOR INNER PEACE
International concert project for inner peace
in the caves of Cueva De Nerja
The concert will take place on Saturday 28 December 2013 at 5 pm.
A group of musicians from all over the world have made it their special task to let the original sounds of the cave Cueva De Nerja flow into their instruments. In this way, a spontaneous, intuitive live composition will emerge whose aim is to lead us to inner peace.
"It's not we who play in the caves of Nerja, but we are played by the caves of Nerja", explains Rechungpa Reinhard Kreckel, director of the Academy of Cultures of North Rhine-Westphalia, Germany and artistic director of this unique musical event.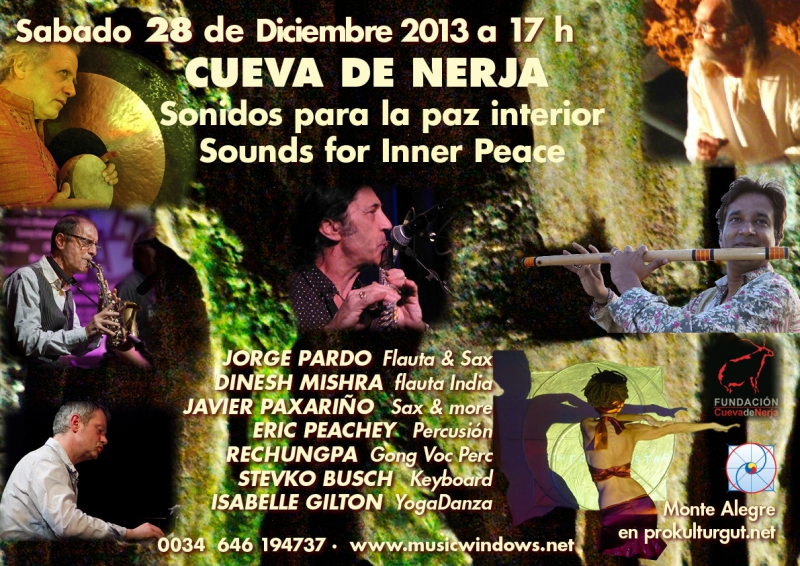 In this project, he has gathered world-class international and spanish musicians: Jorge Pardo, recently awarded by the French Jazz Academy with the prize for best European jazz musician in 2013, Dinesh Mishra, an internationally sought-after master of the bansuri and the famous Spanish saxophonist Javier Paxarino, to name but a few.
Rechungpa Reinhard Kreckel, a versatile musician himself, explains his project to us: "Our aim is to give a concert that highlights the unique character of the caves of Nerja, it is a perfect space to connect the spirit and senses of the audience through music and art – a musical exploration for all senses. We want the audience to experience the cave spaces in a new way and to feel how the sound spreads in the different spaces of this fantastic architecture created by nature,"explains Rechungpa Reinhard Kreckel.
Musicians and dancers will act from different positions to give the audience a holistic experience.
The audience may move freely but quietly in the scenery of the cave during the concert. "Every place offers different perceptions and feelings. In this way we would like to make the richness of these caves, with the subtle sounds of this concert, experienceable to the public ", says Reinhard Kreckel.
This concert will take place as part of the activities of the Akademie der Kulturen NRW, a university of applied sciences for the holistic personal development, which is publicly recognized by the German Ministry of Education. The activities of this institution include training in all physical, mental, emotional, spiritual and human areas. It offers training courses that see the individual as a whole and aim to unite all areas of knowledge in order to promote holistic development instead of splitting up the individual.
Musicians and dancers participating in this experimental concert for inner peace in the caves of Nerja:
– Dinesh Mishra, Bansuri Flute
– Rechungpa Reinhard Kreckel, voice and gong
Guest musician:
– Jorge Pardo, flute, various wind instruments
– Javier Paxarino, saxophone, wind instruments
– Stevko Busch, piano, keys
– Eric Peachey, percussion
– Isabelle Gilton, Yoga Dance
Admission free of charge, admission ticket for the cave is also valid for concerts.
"Welcome to the cave of Nerja, enjoy the concert and remember this evening for your whole life"