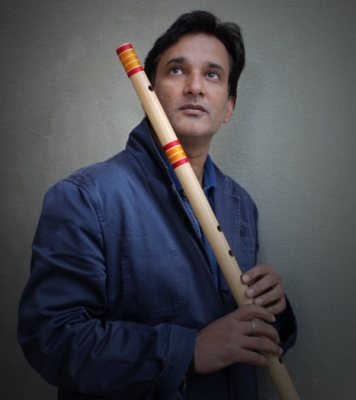 Dinesh Mishra, from Mumbai (India), is playing the Bansuri-Flute. He has built himself solid reputation as a solist and improvisational artist, as a teacher as well as a composer.
After his studies as a master student, under the world-famous Pandit Hariprasad Chaurasia, he followed his studies in indian classical music for over 25 years. He performed at many concerts and was regularly working with Bollywood. But all of this didn't really suffice for him.
His urge to evolve even more with his music, lead him 2007 the way to Germany, from where he started working with various western musicians, as solist and also as a composer.
Since 2007 he lives also in Bochum as "Artist in Residence" at the "Akademie der Kulturen NRW" and as developer in the branch "Academy for Intuitive Music". Invited by different groups, he is very wanted as a flute player and at home in different styles of music, like Jazz, Flamenco, Symphonie, Soundtracks, electronic and meditative music.
Every tone, Dinesh Mishra is raising out of his flute, is connected with deep emotions, his music is spirituality. In past years, he produced more than 20 CDs. Besides his life as a musician he is active in a project for children in India called "Kalashray Foundation – Village of Arts & Culture", where he helps to build up cultural centres in deprived rural areas.
Some of his most important european projects were:
"Eternal Voyage", together with Markus Stockhausen and Florian Weber
"Multi Roots", together with Jorge Pardo, Stevko Busch
"WorldMusicEvolution – Ruhrstadt-Festival": conceptual and artistic cooperation
"Search of Buddha", together with Sandesh Shandilya and the WDR Funkhausorchester & Rundfunkchor "The Positive Creative World Ensemble"
Projekts and concerts, with Rechungpa (prokulturgut.net):
"Silent Harmonies" and "Sounds for inner peace", together with  Rechungpa Reinhard Kreckel
"Spirit of India", a classical indian Solo-project
"Positive Track Ensemble", mit jungen Musikern aus NRW and the Initial-Project SRISHTI mit dem Orchester der Sarala Birla Academy aus Indien
also: "Weekend in Paradise": a collaboration with Tobias Cosler in a performing arts project at Schauspielhaus Bochum
"My life isn't solely dedicated to me and my family – there are more rightful things to do for society…" Dinesh Mishra
Since 2008 he is regularily organizing "Vishwa Shanti – Concerts for Peace in the World (Konzerte für Frieden in der Welt)" as well as other music, media and education programs, together with ArtPro and the Akademie der Kulturen NRW.
Further, he is  playing with WDR-Rundfunkorchester, Markus Stockhausen and Jorge Pardo.
http://www.dineshflute.com/dineshmishra/About.html
Pressefoto zum Download (5 MB)
Kalashray Foundation – a project for the future of indian youth.
KFI is dedicated to young people.
We open doors for the youth at an international level. We act in a artistic, social and wholesome oriented way, which combines practical competence with technical and educational training. As a result, young people are prepared to enter job markets, create their own possibilities and become communal representatives.
Regarding Dinesh Mishra there is no doubt about KFI, taking big steps towards a bright future for India.